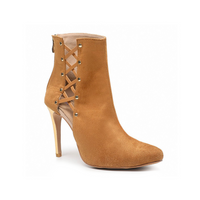 Unite - Closed Toe Suede Dance Booties (Street Sole)
Unite - defined as: to come or bring together for a common purpose or action. This gorgeous umber brown bootie was added to the Pride flag to be more inclusive of the experiences of Queer People of Color. Made of all vegan materials, it has a beautiful side slit decorated with elastic and gold studs. The closed toe is a classic almond shape. There is a zipper on the back allowing ease of putting on and taking off. Keep in mind if you have a wide foot you should size up.

Features:
Memory Foam double thickness padding for extreme comfort
Non-slip anti-bacterial inner lining for sweaty feet
HIGH Quality VEGAN outer materials
Side slit with elastics and gold studs
Zipper on back for easy on and off
Specialized shank for overall support and flexibility
Shoes are designed to withstand long hours dancing providing significantly less pain and pressure.
Size up if you have a wide foot
Some items in our catalog; more specifically the line Burju Shoes, offer customizable HEEL options as well as SUEDE or STREET Sole at no additional cost.
Below is a list of the Heels available to choose from: