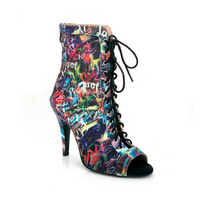 Sierralynn - Graffiti Print Open Toe Lace Up Dance Booties (Street Sole)
Sierralynn Graffiti is one of our most popular styles that now comes in this amazing new Graffiti print perfect for some urban swag. This boot is serious business and is no nonsense in style, comfort and support. Whether for a dance class or everyday wear, walk in confidence with these babies. So much ankle support it is perfect for heels classes and still great for salsa, bachata or kizomba. So comfortable you can wear them all day long while hanging out with friends. Laces hug foot for maximum support. Zipper closure on back for ease of putting on and taking off. Get ready to experience comfort and style like no other.

Features:
Unique graffiti print of the word "Dance"
Vegan
Feet won't slip with our soft non-slip inner lining
Stiletto heel
Maximum ankle support and comfort with lace up design
Maximum stability with solid bridge over toe box
Easy on and off with zipper on back
Extreme comfort and extended wear with ultra comfort padded inner sole
Everyday and every way use with our smooth PU outer sole
Some items in our catalog; more specifically the line Burju Shoes, offer customizable HEEL options as well as SUEDE or STREET Sole at no additional cost.
Below is a list of the Heels available to choose from: