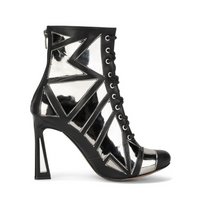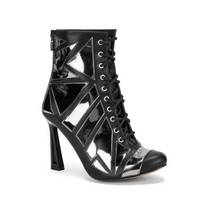 Geo - Vegan Leather Closed Toe Ankle Dance Boots with Geometric Shapes (Street Sole)
Geo is one of our most unique designs yet. The entire style is inspired by the unique shape of the heel. The geometric shapes are echoed in the shoe through indifidually cut out mirrored shapes that are stitched on to the main material. This entire shoe is vegan and it really is a show stopper. This heel is ready to hit the runway or night out with friends.

Features: 
Memory Foam double thickness padding for extreme comfort

Non-slip anti-bacterial inner lining for sweaty feet
HIGH Quality VEGAN outer materials
Completely hand made

Zipper on back to easily put on and take off

Specialized shank for overall support and flexibility

Shoes are designed to withstand long hours walking providing significantly less pain and pressure.
STREET SOLE (smooth for spins, turns, and slides, can be worn on all surfaces)
HEEL HIGHT 4 Inch with geometric shapes
Some items in our catalog; more specifically the line Burju Shoes, offer customizable HEEL options as well as SUEDE or STREET Sole at no additional cost.
Below is a list of the Heels available to choose from: